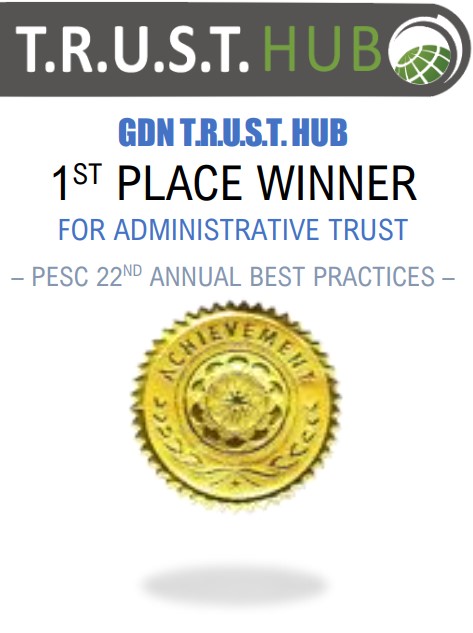 At the 22nd PESC Best Practices Competition, the GDN T.R.U.S.T. Hub was awarded 1st place in the Administrative Trust category.
PESC Annual Best Practices Competition recognizes, highlights and promotes innovation and ingenuity in the application and implementation of interoperable data standards for business needs. The Annual Best Competition is open to institutions (schools, colleges, universities), associations, organizations, government agencies and departments, districts, consortia, nonprofit and commercial service providers and other education stakeholders that have collaborated to design and/or adopt an electronic standardization initiative (e.g. published articles, white papers, pilots, demonstrations and implementations).
GDN identifies trusted entities through its Signatory process, and once approved, the status of GDN Signatory is granted. The GDN T.R.U.S.T. Hub provides an overview of the GDN Digital Learner Data Ecosystem in an online searchable map. Where the Signatories, including credential depositories, are located is displayed, along with how to contact them for more information
The award-winning submission made by GDN is posted on the PESC website with prior winners at www.pesc.org. An Awards Ceremony will be held during the General Sessions at PESC's October 2021 Data Summit being held virtually October 19-21, 2021.